As many of you know, I've been researching wallets for about a month now. My old wallet was dying, and got even worse at ASE 2009. I needed a new wallet bad. I didn't want to just go buy something because every wallet I've ever had in the past would be destroyed within 1 to 2 years so I wanted something that would last longer, and was much thinner than a regular wallet.
During my research, I came across All-Ett bill folds a number of times. Every review I found, every site recommending wallets all had these wallets on their site, and were receiving great reviews. I was skeptical because of a name I'd never heard of, and because hearing all these reviews saying they're so great, and no downfalls is usually unheard of for a product. Somebody out there has to have a negative review I thought.
I was wrong. So wrong.
I couldn't find a single thing that discussed these wallets in a negative manner. I really couldn't believe it, but they are cheap wallets so I eventually caved in and decided to order one for myself.
The wallet I ordered was the simple model, with the ID window, and two separate areas for bills and receipts.
The claim to fame of these wallets is the thinness of them, and how easily they slip into your pocket. Especially with many people wearing tighter fitting clothes these days and putting their wallet in their front pocket. We need something that's much thinner than regular wallets, and won't cause a big bulge in your pocket that looks bad.
Another cool thing about this particular wallet is the material it's made from. It's made from a fabric called Spinnaker. This material is a tightly woven polyester PU coated fabric. It's super super light, but super durable, and also water repellent. If you're familiar with sailing this is what many sails are made from, because of the light weight and durability. If you don't like this kind of fabric, All-Ett also makes leather versions of their wallets so you can stick with the tried and true.
I opted for the spinnaker fabric because I wanted light weight, and something that was resistant to tearing as well as water. I know I have issues with dropping things near water, whether it be into drinks at clubs or up at my cottage so this was the best choice for myself.
The only downfall of this particular fabric is it makes a little bit of a "Crinkling paper" noise when you open and shut the wallet. But, this goes away fairly quickly (I've already noticed a significant decrease in the noise after just 2 weeks of use). If you're opening the wallet in anywhere that's somewhat noisy, you probably won't even notice the noise it makes.
Now, you're probably wondering why is this the best wallet for affiliate marketers? Well, let me tell you.
It's quite simple really, this is a super thin wallet, with many versions available including international versions, travel versions, passport capable versions etc. With many of us being travelers, these wallets are a perfect match for us.
Not to mention, that these wallets force you to be super organized. There are only a few slots available for your cards and ID and whatnot, so you won't carry around a bunch of cards that are never used. This is the ideal way to get rid of that "Female Body Inspector" card you've been lugging around since you were 10 years old because it's funny.
About two weeks ago, I received my order in the thinnest envelope I've ever had shipped to me with something inside of it.
Here are some pictures of it.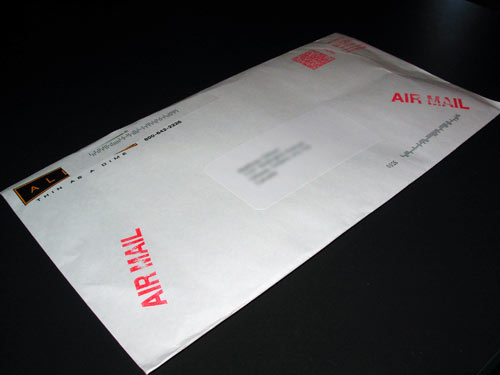 I was totally surprised at the envelope. Did they really ship me something?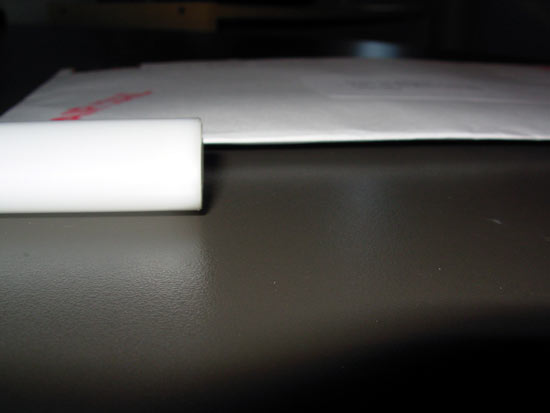 Yup, that's a lighter next to the envelope. Isn't that nuts?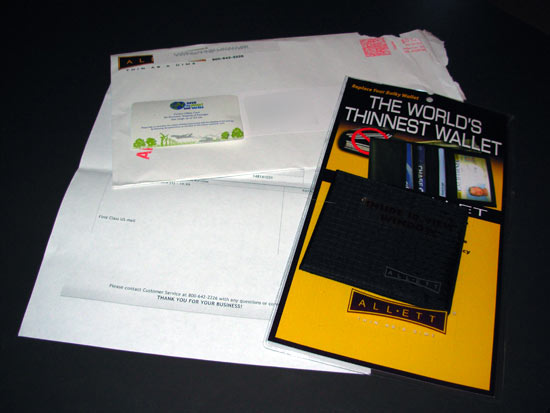 That's everything that came in the envelope. A letter, business card, carbon offset card, the receipt and the wallet itself. Unbelievable that all this could fit into such a small envelope. It was also pretty cool they sent me a carbon offset card for such a small shipment. Nice to see people doing their part.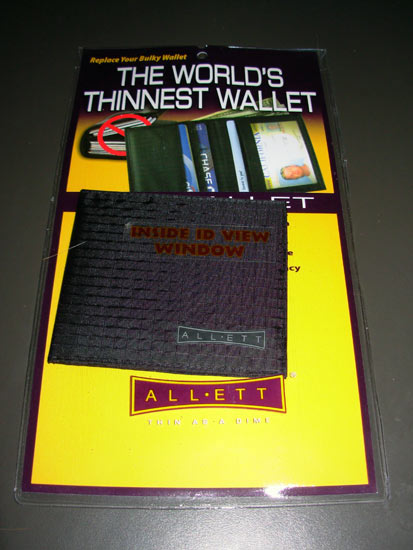 Here's a shot of just the packaging, and the wallet itself. Pretty cool eh? It's not overdone with logos and sparkly shit like a lot of other wallets are. Getting excited to try it out.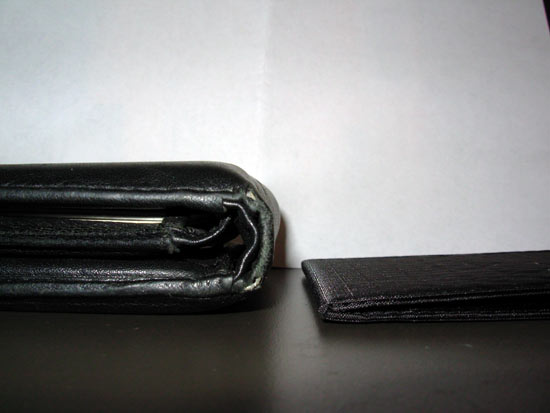 Wow. Look at the difference in size. Mind you, this is my old wallet full of stuff, and the new wallet completely empty. But, check this out.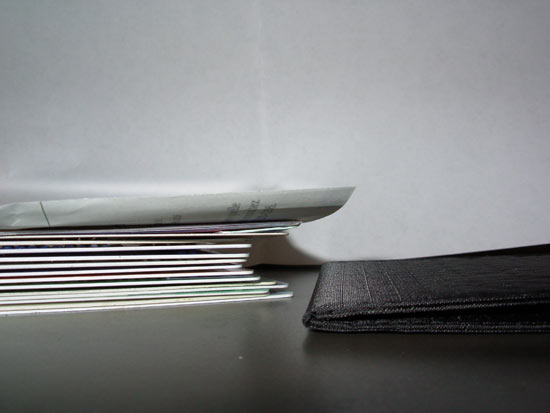 That's a lot of stuff coming out of the old wallet. Lets see what it looks like once we get it into the All-Ett wallet.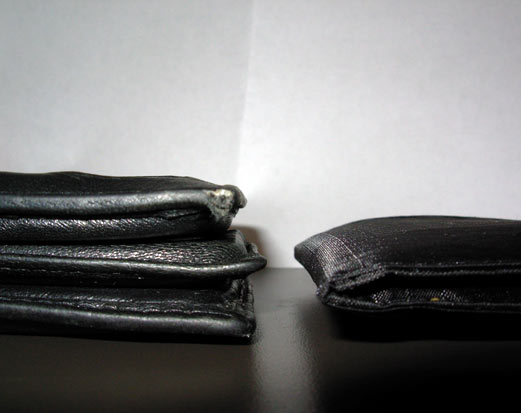 So, as you can see from the photo comparisons. The All-Ett wallet really is the worlds thinnest wallet and will carry all your cards, money and receipts snugly in your front pocket. No more back pain, or large bulge in the front or back of your pants. Plus, there's no more need to worry about pulling out a leather wallet on rainy days, or that the leather might rip or something like that.
I have been recommending these wallets to all my friends since I got it, and 3 of them have actually purchased it and I'll probably be picking up 3 or 4 more for Christmas because I know a bunch of people that need thinner wallets.
I don't usually do product reviews, but I had to say something about this one from All-Ett Wallets because it really is a superior wallet that affiliate marketers will love.
Let me know in the comments if you use one too, and what you think of it.